Hi, Everyone. Catherine here. It's been a busy time, presenting and getting new students settled into classes. Today I have a lot of thank you's to give.
First, I mentioned that I was at Gifu JALT a few weeks ago. Gifu JALT is such a great group for YL presenters. The participants are not just warm people, but I am always impressed that even uni teachers attend the YL presentations and join in when participation is asked for. Thanks again Gifu JALT! I am so glad you aren't too far from Kyoto 🙂
Next, last weekend, I spent time with some great teachers in Sendai and Tsukuba. I spent Saturday with Cesar Santoyo's lovely group of teachers at SEELS in Sendai. I introduced Happy Valley songs, dances and games before handing it over to the participants to try some of the games and activities from the Happy Valley Routines, Games and Activities Bank. Here are some pictures of the day.
Hello Song


Let's Shake Hands


Toy Chant. "Tops."


Playing 'Take it. Bring it.' Little S played the game with us. He was a great sport all day.


A great group practicing their Over To You activity 'Throw and Flip.'


Everyone presented their Over To You activities.


We took lots of pictures and everyone got a certificate.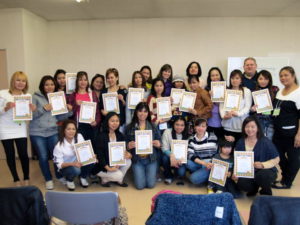 Thank you, SEELS!
Finally, after SEELS, I headed to Tsukuba, Japan, where Sunday, I got to spend the day with Mabuhay Classroom founder, Marco A. Brazil, and his group of enthusiastic teachers.
Here we are doing "Let's Sit Down in a Circle" from the Happy Valley 2 Student Book CD.


This was taken just before we played the Right/Left Game. We laughed a lot during AND after that game. The teachers had great senses of humor!


After lots of singing, dancing and playing (and laughs), we took a ton of pictures. Here are some of the lovely people I got to meet.


Thanks to English Books Japan, SEELS and Mabuhay Classroom for your great support and to all the participants who truly made the weekend a fun-filled experience for me. I am truly grateful.